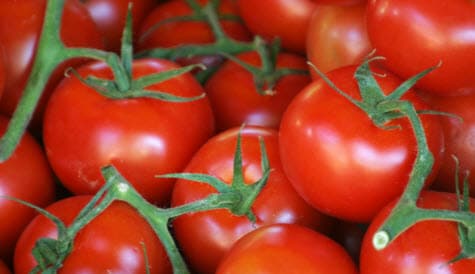 When you think about things that go together, cars and tomatoes don't come to mind, but Ford may soon change that thanks to new developments in their partnership with H.J. Heinz Company. The two businesses, which could not be more different, have joined forces to test out the use of dried tomato skins in Ford cars, trucks and SUVs. If suitable, they could be used in the creation of in-car storage bins or as wiring brackets, benefiting both Heinz and Ford's sustainability efforts.
"We are delighted that the technology has been validated," said Vidhu Nagpal, associate director, packaging R&D for Heinz. "Although we are in the very early stages of research, and many questions remain, we are excited about the possibilities this could produce for both Heinz and Ford, and the advancement of sustainable 100% plant-based plastics."
Ford first began their collaboration with Heinz two years ago after the company came to them looking for ways to repurpose over two million tons of tomato by-product. They also brought Nike, Proctor & Gamble and Coca-Cola into the mix and started working to create a 100-percent plant-based plastic that could be used in a variety of ways, including packaging, while reducing their carbon footprint.
For a visual idea of how Ford plans to utilize Heinz's tomato by-product across their lineup, click the following link to take a look at a sustainability infographic that maps out the process.