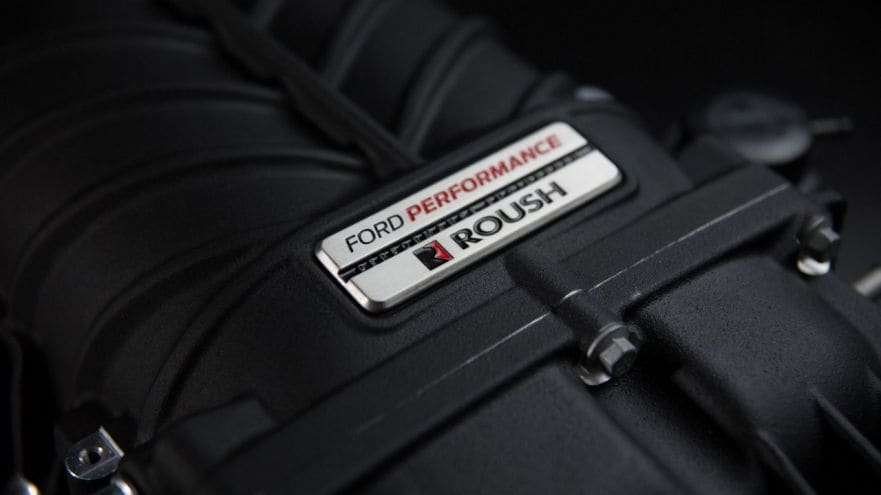 ​Are you interested in getting behind the wheel of a 700-horsepower Mustang GT? You'll soon be able to thanks to Ford's latest innovation.
The automaker once again joined forces with Roush Performance to design a supercharger kit for the 5.0-liter V8 engine, available on both the Mustang GT and F-150. In addition to the horsepower boost, the kit turns up the Mustang's torque output to 610 lb-ft. When added to the F-150, it puts out 640 horsepower and 600 lb-ft.
"Our teams collaborated to create the most highly engineered, tested and performing supercharger kit on the market," said Jack Roush, chairman, board of directors, Roush Performance. "The combination of the 2018 5.0-liter engine and our all-new, fully integrated 2650 supercharger system yields simply incredible, no-compromise performance."
Scheduled to arrive in early 2018, the supercharger kit includes all of the necessary installation hardware as well as an exclusive performance calibration. It's also backed by a limited warranty when installed by a Ford dealer or a Ford-certified technician, and installation does not void the vehicle's exciting new car warranty.
If you're interested in purchasing a supercharger kit for your new 2018 Mustang GT or F-150, give us a call or fill out our contact form. That way, you'll be first to know when the kit arrives at Serramonte Ford!
Learn More About the 2018 Mustang
The 2018 Mustang receives several changes for the new model year, including updated styling, a retuned suspension and new available magnetic dampers. On V8 models, buyers will also find a new two-mode exhaust system and a redesigned manual transmission. For more information, check out the video below!
Learn More About the 2018 Ford F-150
Refreshed and ready to rumble, the F-150 heads into 2018 with several notable updates. Improved power output and fuel-efficiency can be found across the lineup, and the available collision mitigation system has been improved upon. V8-equipped F-150 models also show off with a brand-new 10-speed automatic transmission that offers some of the fastest acceleration in the segment. Click play on the video below for additional info!