For 2019, Ford introduces advanced safety technology that could reduce accidents. The all-new Co-Pilot360 package comes with five standard features that give drivers extra reassurance on the road. Some of the amenities utilize the latest radar sensors to scan traffic. Of course, optical technology is also integrated into this signature accident-mitigation package.
Which Vehicles are Recieving Co-Pilot360?
The Co-Pilot360 has already been approved for integration in the 2019 Ford Edge. Ford plans to install this patented safety system in other crossover SUVs, sedans and pickup trucks. In an effort to lead the global market in active safety, the company has unveiled this cutting-edge feature. Ford models already have a rich reputation in passive safety. Co-Pilot360 is evolving the driving experience.
What are Some Key Features of the Co-Pilot360 Technology?
As the name suggests, the Automatic Emergency Braking is intelligent enough to apply the brakes when there's an elevated risk of a forward crash. This innovative braking system is linked to multiple sensors that measure the velocity and acceleration of another automobile that's ahead. Other sensors also have the ability to identify pedestrians who are in the path of a Ford vehicle.
The Lane Keeping System continuously monitors any visible markings to determine if you're drifting out of a single lane. If necessary, the steering direction will be gently adjusted by this sophisticated technology. Before you attempt to quickly zip into another lane, it's important to get confirmation by the Blind Spot Information System.
As you approach a busy intersection with multiple lanes, the Cross Traffic Alert looks for any cars that might be moving just behind you. Frequent changes in the intensity settings of the headlights might be a hassle during the night.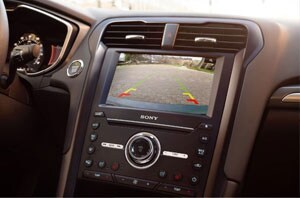 Ford is Taking Steps to Become a Leader in Safety
Ford introduces this accident-mitigation package in response to the highly competitive auto marketplace. Ford is clearly taking strong steps to remain a leader in active safety for various vehicle classes. For its robust and powerful design, the F-150 pickup truck surely offers a handful of driving aides. Inexpensive and compact, the Fusion and Fiesta also have impressive safety features that exceed expectations. Perhaps these affordable trims will get major upgrades in the future with the introduction of the Co-Pilot360. In the long term, this package is expected to get some updates that improve the responsiveness of sensors that issue warnings in the dashboard.
Learn More by Visiting Our Dealership
Are you interested in learning more about the Co-Pilot360 technology? Then come to our Ford dealership today. You can also find out which models will be available with this signature active safety package. Don't forget to check out other technical specifications of Ford trims that are best suitable for your lifestyle.