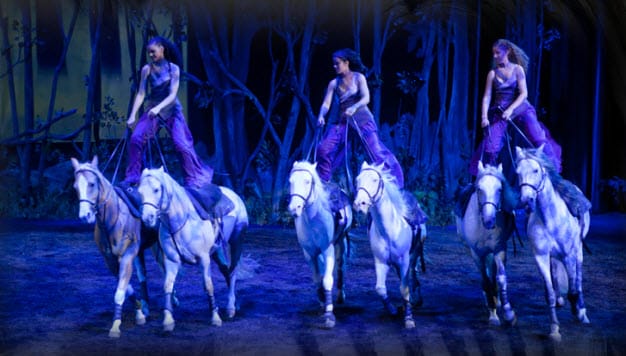 One of the biggest touring productions in the world, Odysseo, has officially landed in San Francisco. Now until Jan 10, 2016, Bay Area residents are invited to witness this one-of-a-kind spectacle featuring beautiful horses and a team of talented riders and performers. Cavalia's Odysseo is a show unlike any other, transporting you into a world of beauty and grace that will leave you in awe. All performances take place at the White Big Top at AT&T Park and are suitable for all age groups.
Odysseo is a production you truly have to see to believe. Comprised of high-tech theatrics, stage arts and equestrian arts, the show features all types of talented individuals; from dancers and musicians to acrobats and horse riders. A total of 65 horses appear in each performance, along with 45 performers. All the magic takes place under the White Big Top, which spans over 68,000 square feet and houses a 17,500 square-foot stage.
Visually appealing from beginning to end, Odysseo is one show you'll want to see before its run ends in San Francisco. You can purchase tickets online today to attend an upcoming performance at AT&T Park. Ticket prices vary according to seating and range from $44.50-$264.50. Be sure to get yours as soon as possible to experience the magic of Odysseo!