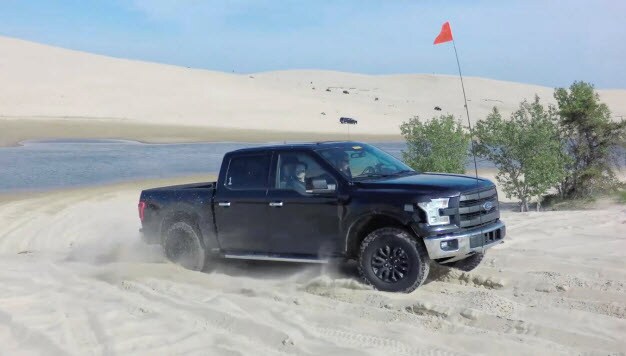 The 2017 Ford F-150 Raptor is currently in development, and in an effort to find out just how well the heavy-duty pickup tackles the elements, Ford recently took a prototype out to Silver Lake, Michigan. Designed to perform well on a variety of terrains with ease, Ford headed to Silver Lake State Park to test out the Raptor on Michigan's popular sand dunes and assess its off-road capabilities.
Available at Serramonte Ford in fall of 2016, the 2017 Ford F-150 Raptor has been completely redesigned from the ground up. When it arrives next year, truck buyers will find it has all-new terrain management technology, larger FOX Racing Shox with more suspension and is powered by Ford's second-gen 3.5L EcoBoost engine. Additionally, those who purchase the new Raptor will be able to equip the model with Torsen front differential, a system that increases grip at the front of the pickup, allowing it to go uphill and climb obstacles with no problems.
If you want to get an idea of what the 2017 Raptor is capable of, view the pickup tearing up the sand dunes at Silver Lake State Park in the video below. We can't wait until we can get our hands on the model in 2016 and look forward to showing it off to our customers!