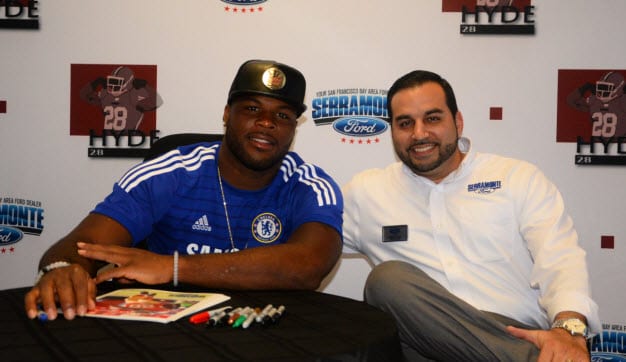 Football season has officially arrived and to get fans hyped up for its return Serramonte Ford recently held a meet and greet with pro running back Carlos Hyde of the San Francisco 49ers. The exciting event was a big success for the dealership and drew in masses of football fans from throughout the Bay Area. Local football fans both young and old came out to support one of their favorite players in the game and went home with a memorable souvenir that will last a lifetime.
It's not every day that you get the chance to meet a professional football player, which is why we were so thrilled to have Carlos Hyde come visit us and meet with fans at Serramonte Ford. Those who stopped by for the greeting got the chance to take a picture with Hyde and a few lucky fans who arrived early also received an autographed picture. Everyone was beyond happy to interact with the starting running back for the San Francisco 49ers and we were more than pleased with the outcome of the event.
We'd like to thank Carlos Hyde for taking time out of his schedule to make the meet and greet possible, as well as all the fans who made the trek to our dealership. We look forward to watching Hyde on the field this season and wish his team the best of luck!