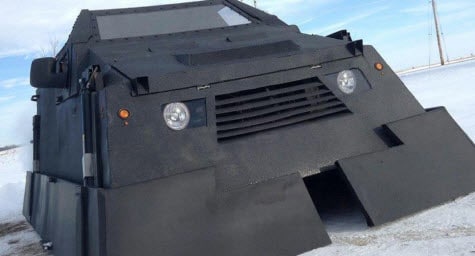 If you've seen the movie "Twister," then you have a vague idea of what it looks like to be right in the middle of a tornado. With winds reaching obscene speeds and danger lurking in every corner, traveling in a storm can be devastating; the Iowa Storm Chasing Network knows this all too well, which is why they recently transformed a Ford E-350 van into a five-ton storm-chasing machine - a vehicle they like to call "Dorothy."
Comprised of 14 and 16 gauge steel, 3/4-inch polycarbonate windows and weighing an astounding 10,000 pounds, Dorothy looks like something out of an apocalypse survival movie, and if that's not cool enough, it also has a complete office in the back, allowing the storm chasers to keep track of weather patterns as they follow tornados. A 6.8L V-10 engine powers the monster van and a four-speed-automatic transmission provides just the extra support it needs to make its way through stormy weather. However, as safe as it is, Dorothy will not be able to go directly into a tornado, but it will be able to get pretty darn close.
While we'd all like to have our own Dorothy, this vehicle is not for sale to the public. However, you can check out Serramonte Ford's complete collection of E-Series vans, which Dorothy is constructed on, and test out your own personal customizations at home!