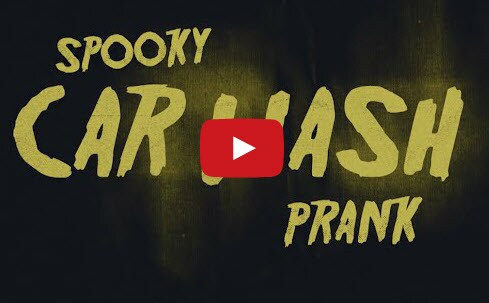 If you regularly hit up the drive-through car wash at your local gas station, you may hesitate to go back again after watching this video. A car wash doesn't necessarily seem like the type of place where you'd find undead creatures hanging about. However, in this hilarious prank Ford turned a Detroit car wash into a spine-tingling haunted house and frightened the pants off unsuspecting drivers.
On Sept. 30, 2014, Ford asked 30 strangers if they would like to participate in a filmed test drive, but the filming was just an excuse to get drivers to ride through a special Halloween car wash. Ford's crew gave money to participants, telling them that they would first need to get the vehicles cleaned before the filming. Once inside the car wash, the lights suddenly went dark and began flashing. Then soon after, the real fun began when costumed actors appeared out of the woodwork, startling passengers and inducing plenty of screams.
At the very end, there was one last spooky surprise for vehicle passengers, which you can check out in the video below. Go ahead and click play if you dare, and prepare for a post-Halloween scare!