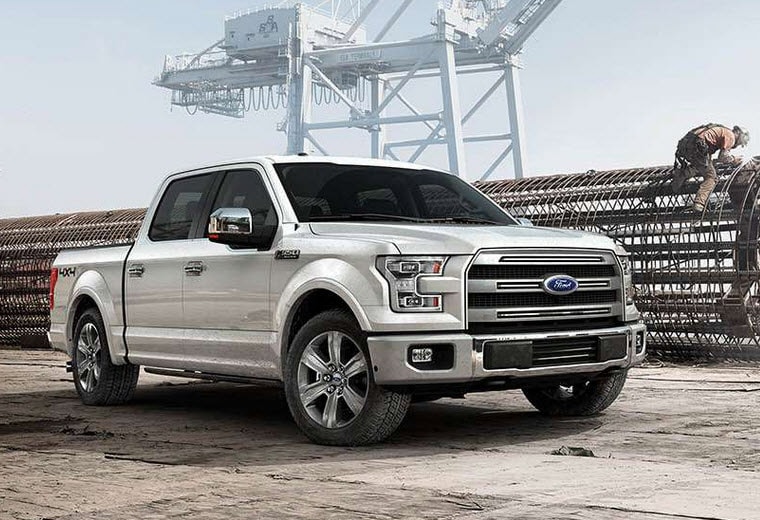 The meaning of Built Ford Tough is taken to new levels with the next-generation 2015 F-150 - on sale in Colma-San Francisco soon! The nation's best-selling pickup is now smarter and tougher, with a precision engineered all-aluminum body and a new frame composed of high-strength steel that's rated up to 70,000 psi!
The truck's all-new aluminum bed and body are big news. Replacing the former steel structure, the new 2015 Ford F-150 debuts a military-grade aluminum shell that is stronger yet much lighter than its predecessor. In fact, F-150 has shed 700 pounds, which will contribute to greater fuel efficiency and increased hauling and towing capacities. By the way, if you question the aluminum's strength, keep in mind that the truck utilizes a material similar to that used by the aerospace industry, as well as in military units like the HMMVV and Bradley Fighting Vehicle.
In addition, this year the pickup adds advanced features like an LCD productivity screen, remote tailgate release, a camera with a 360-degree view and LED lights embedded in the cargo box. Available driver-assist features, including a lane-keeping system, adaptive cruise control and blind-spot monitoring, are also offered.
Furthermore, we're sure that shoppers will also be happy to hear that a new V-6 EcoBoost engine has been introduced, and it joins last year's V-6 and V-8 powerplants.
New 2015 Ford F-150s will go on sale in the San Francisco Bay area soon! For more details about the truck's changes, please contact Serramonte Ford today!