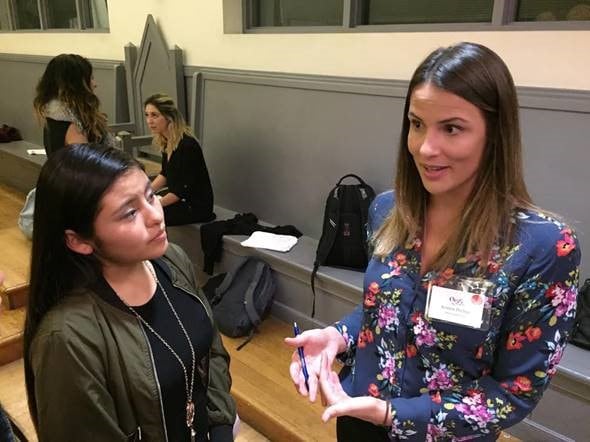 Serramonte Ford is proud to announce that we just had another successful fundraiser and career night for the local non-profit "Oasis For Girls." Helping low-income and at-risk young women and girls in the San Francisco area, "Oasis for Girls" is a fantastic organization that we are pleased to help support.
This fall, Serramonte Ford has participated in two big events for the organization: their "Career Night" this November and their annual "Shine" fundraiser in October.
Career Night
Twice a year, "Oasis For Girls" hosts a Career Night to help educate the young women they help support about employment and career options. The event centers on a panel of successful female role models, who describe their own career path and explain what type of preparation they needed to succeed.
Our own successful and well-respected finance manager, Kristen Phillips (pictured above), sat on the panel held on Nov. 16, 2016, providing great insight about achieving and sustaining success.
"I feel extremely fortunate to have participated in this highly motivating event," Kristen shared. "All the attendees were excited and eager to learn, but what was especially impactful, was how the motivation and enthusiasm of the experience went both ways."
A Successful Fundraiser
Serramonte Ford's major sponsorship at "Oasis For Girls'" annual "Shine" fundraiser was also a big highlight of the past few month, allowing us to help this fantastic organization continue its terrific work for our local girls and women.

To find out more about the many local events and causes in the San Francisco area that Serramonte Ford supports, subscribe to our blog today!