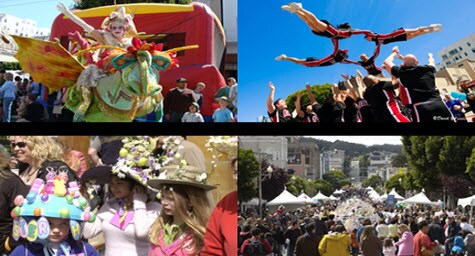 With April here, Easter is just around the corner, and that means it's time for the San Francisco community to get ready for Union Street's 23rd Annual Easter Parade & Spring Celebration! Held in appreciation for the Bay Area's unique population, the annual event, scheduled for Sunday, April 20, will feature a wide range of activities for families to enjoy, a parade and an outdoor bistro setting with a variety of food. Come out and participate in this day-long celebration, and take in the diversity of San Francisco!
Known as the Biggest Little Parade in San Francisco, Union Street's Easter Parade has been a popular event within the community for over 20 years. It celebrates all things creative, including outlandish fashion, classic cars and mini floats, and urges everyone within the San Francisco area to showcase their individuality. Aside from the parade, families will be able to enjoy incredible activities during the day's festivities such as a petting zoo, a climbing wall, games, a bounce house, live music and pony rides! An Easter Bonnet Contest will also take place, with awards being handed out in ten different categories, so don't forget to bring your best headgear!
To learn more about the 23rd Annual Easter Parade & Spring Celebration, please visit the official website. This is a rain or shine event, so come prepared and have fun!