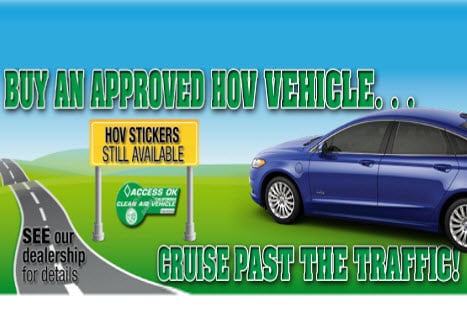 Being stuck in traffic is no fun to say the least. And to escape the pain of sitting in stopped or stop-in-go traffic, many people resort to jumping in the HOV lane illegally, but there's always the risk of getting pulled over and having to pay a high-priced ticket. If you want to reduce your carbon footprint, get exceptional fuel economy and drive in the HOV lane by yourself without any worry that you'll see cop lights in your rearview mirror, we have a solution for you.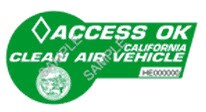 Serramonte Ford has several HOV-approved vehicles for sale in the San Francisco Bay area. The Ford C-MAX Energi and Fusion Energi plug-in hybrids are your ticket to saving money at the pump and spending much less time in traffic. Check out inventory to find HOV-approved Energi models now! Just look for the green logo pictured to the right!
Drivers who purchase or lease cars meeting California's advanced technology partial zero-emission vehicle (PZEV) requirement are not only benefitted by saving money on fuel, but also receive an HOV-riding bonus from the state for their efforts to help improve the environment. For more details about how you can get a new car that includes the HOV Access OK decal, please call Serramonte Ford today. Also check out C-MAX and Fusion Energi highlights below.

SEE OUR FORD C-MAX REVIEW FOR MORE DETAILS