We have no doubt that the memory seats from Ford are some of the most valuable and interesting features that we have seen from the company, and you can do some cool stuff to keep the settings in your car. You can choose to operate this with the remote keyless entry if needed. With that said, how do you adjust the Ford memory seats? Let's take a look at it.
Step #1: Turn on the Memory Key Buttons
Ford vehicles that have this feature will allow for two different memory seating options. The buttons have been labeled as "1" and "2." Depending on the model, you could also have a button "3." Each of these will hold a separate memory programming for the different drivers, which means that it will work for two or three different drivers. You can find these memory buttons on the outside of the seat, and it sits next to the power adjuster.
Step #2: Program the Seating to Remember the Contours of Your Body
When you push the button, you will hear a beep. This means that you can program the memory seats. Once the beep happens, you will want to adjust the seating and adjust the mirrors for the best experience while driving. The next time that you get into the vehicle, the car will automatically remember your driving settings, even if someone else had previously driven the car. This is technology that is quite innovative because one of the common complaints that people had in the past was that someone else was in their car, and they messed up the mirrors and the seating. Next, they have to take the time to readjust everything in the car to their liking.
Step #3: What to Do if the Settings Were Already Set?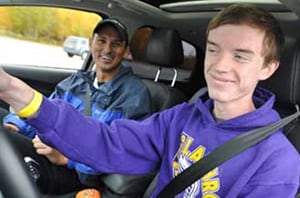 This is a third optional step that happens if a previous driver already had the memory seats set. How can you override this to have new settings? Important to note, this is also useful to know because of how you can use this to keep from accidentally resetting the memory seats. If you want to reprogram the position of the seating, you have to hold one of the number buttons for five seconds. It's important to understand that you can't clear the memory settings of the Ford memory seats, but you can reset them by holding the button for five seconds. Once you hear the beep, you can adjust the settings to how you want them.
Luckily, Ford has made adjusting the memory seats as simple as possible, and it's quite intuitive. However, if you'd like a real-time demonstration of this technology, you can ,visit our dealership to see this it in action. You can also schedule a test drive to see if this is one of the amenities that you'd like to have in your vehicle.