Ford is the automotive legend in the United States that started the entire industry of manufacturing with its sophisticated assembly line methods. Today, the Ford F-series is the best-selling vehicle in the world. The F-150 continues to retain the status of the top-selling vehicle in America, a legacy dating back over 40 years.
For this reason, Ford continues to be the pioneer in innovating features that permeate through the rest of the industry. The most popular features are the safety features, infotainment, and drivetrains that squeeze every joule of energy from the fuel that they thrive upon. Let's discuss the most popular features in greater detail below.
World-Class Safety Features
All new vehicles manufactured from 2018 and onward must include a backup camera as standard equipment. This is pursuant to a new Federal law that protects young children and animals from being run over by accident. Ford takes this a step further in their F-series by providing drivers with a 360-degree birds-eye-view camera and a trailer hitch alignment program. Now you can hitch a trailer without using a spotter
The Active Parking Assist that relies upon these cameras and sensors is an industry first for trucks. The parking program is so sophisticated that you don't even have to find a spot. The program will determine if the spot is large enough to fit your truck and handle all the maneuvering.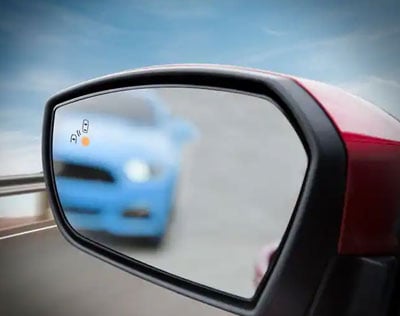 Driver's also love the blind spot detection that is becoming so critical to staying safe as highway drivers become more aggressive by the day. Forward Collision Warning and Adaptive Cruise Control are also fundamental features that one needs with all the cellphone distractions and congested high-speed driving going on. When you add in Hill Descent Control and Curve Control, you can drive anywhere without all the stress involved.
Infotainment Technologies with Rich Smartphone Integration
Ford SYNC technology is now integrated with Apple CarPlay and Android Auto. This allows Ford owners to control the interior functions of their vehicles with voice commands, hands-free calling, messaging, music, maps, and more. Having the conveniences of your cellphone while you are driving without having to mount it on a flimsy dash device is coveted by today's drivers.
The illumination of the touchscreen makes it easy to see the maps and incoming messages without having to block solar glare. When you are driving with the built-in GPS features, you will always find the best route and receive the appropriate alerts. SYNC technology combines the best of both worlds by integrating the Apple CarPlay, hands-free, and AndroidAuto that you may find in other brands.
Which Drivetrains Are Most Wanted?
Ford engineers boast of developing a 10-speed automatic transmission in a joint venture with GM that is tweaked with 1 million lines of code. Pairing this smooth shifting telepathic transmission with one of the powerful EcoBoost engines makes for some serious transportation comfort. The high-end EcoBoost engine found in the Raptor makes an astounding 450-hp from a twin-turbo V6. The quick spooling turbos and strong linear powerband all make top trucks and cars, fitted with this technology, hard to beat. The Focus, Fusion, Fiesta, Taurus, Mustang, and GT all feature EcoBoost engines and optional 10-speed transmissions.
Please call or stop by for a test-drive at Serramonte Ford in the San Francisco Bay area to get paired with a stellar automotive package that you'll love.