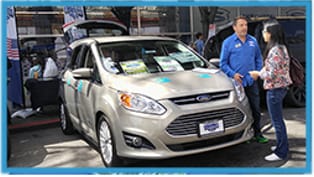 Serramonte Ford celebrated Earth Day this year at the 46th annual Earth Day San Francisco Street Fest. This year, we held a featured position at the Electric Vehicle Center, where we showed off our fan-favorite green car models: the Ford Focus Hybrid and the C-Max Energi Plug-in Hybrid.
Thousands of San Franciscans came out to this famous street fest, where everyone could celebrate all things Mother Earth. On top of the two car models we showed off at the Earth Day Street Fest, we also went a step further and distributed over 4,000 spruce seedlings.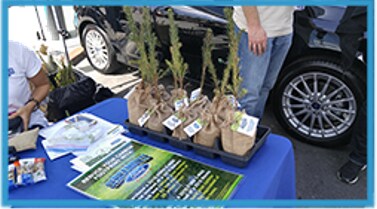 These seedlings were provided by the Arbor Day Foundation to help restock Earth's tree population. Once these seedlings are planted, they'll do their job of replenishing oxygen into our atmosphere. We had also hoped that these little seedlings would help call out the need to reduce people's carbon footprint.
One of the best ways to reduce your overall carbon footprint is to drive a green car like the C-Max Energi or the Focus Hybrid. We had a fun time showcasing all the many benefits of driving a green car and the many eco-friendly choices Ford has to offer those looking for new cars around the San Francisco area.
To find out more about the 2016 Ford C-Max Energi Plug-in Hybrid, the 2016 Ford Focus Hybrid, or any of our other green car models, visit us at Serramonte Ford today!