Whether you need brake service or repair, Serramonte Ford can help. We have an onsite service center equipped with the tools needed to handle a range of automotive services, including brake repair. Do you think your Ford is need of new brakes or just requires a quick brake inspection? If so, schedule an appointment with us today and our technicians will be happy to examine your vehicle. Our trained professionals have years of experience in the service industry and are certified to work on all makes and models, including discontinued vehicles.
Do I Really Need to Have My Brakes Inspected?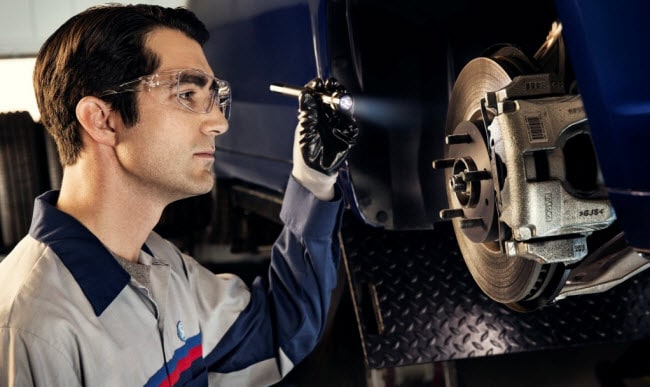 The answer to this question is yes. To ensure your Ford car continues to run smoothly and effectively comes to a complete stop when needed, you must receive brake service in Colma routinely. To find out when and how often you should bring your car into our service center for maintenance, take a look at the recommended maintenance schedule provided by your manufacturer. It will tell you the best time to bring your car in for an inspection and at what intervals your Ford car, truck or SUV will need new brake fluid, brake calipers, brake rotors and brake pads.
How Will I Know If I Need My Brakes Repaired?
If your car is in need of brake service, there's a good chance you've experienced one of these four conditions. Lookout for these telltale signs your Ford needs brake repair, then be sure to contact us to have your vehicle serviced as soon as possible.
Your car makes a grinding our squealing noise when braking
It takes a long distance for your car to come to a complete stop
Your car jerks when braking
You need to apply a lot of pressure when stopping
At Serramonte Ford, we provide an array of brake services to the car owners in the San Francisco-area. If you're in need of new brake calipers, brake rotors, brake fluid or brake pads, come down to our dealership for premium service.