Is your Ford having trouble starting? Are you in frequent need of a jump start? These are just some of the many tell-tale signs that your battery is about to die. Continue reading to learn how to properly maintain your car battery and how to look for signs that might mean it's time for a new one.
How Long Should My Car Battery Last?
This is a common question that we get asked a lot at Serramonte Ford. If your battery is properly cared for, it could last up to four years. One way to accomplish this goal is to bring your car, truck or SUV in for battery servicing every 3,000 to 6,000 miles, or during routine oil changes. However, you'll also want to keep in mind that if you drive in extremely hot or cold conditions, your battery will deteriorate faster, making it necessary to have battery testing done even sooner.
When Should I Get a Car Battery Replacement Near Me?
Other than the symptoms already mentioned, you should also watch for the following bad battery signs: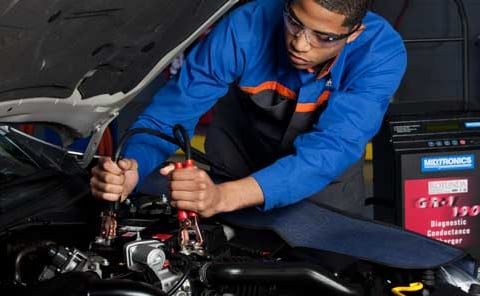 Your vehicle's engine is slow to crank or won't start at all
Exterior and interior lights are unusually dim or even flicker
Battery warning light or check engine light is on
Your battery is more than three years old
Battery case appears swollen or bloated
Your battery fluid is leaking
If you're experiencing any of the above problems, we highly advise that you
schedule an online appointment
today for battery maintenance at our state-of-the-art Ford service center in Colma. If you ignore these issues, you could end up being left stranded on the side of a road.
Why Choose Us?
Our factory-trained service technicians know best when it comes to providing your Ford or other make/model with high-quality car care. In addition, we are known for providing our customers with outstanding customer service each and every time they walk through our doors, which has helped make us the go-to dealership for folks in the Colma area for years.