Focus Update from San Francisco Ford Research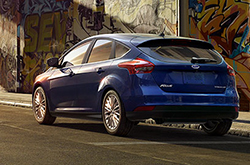 Coming off of a terrific new redesign for its 2015 model year, the Ford Focus is looking to continue its reign as one of the most popular sedans on the market today. And our 2015 Ford Focus review is here to tell you all about the new features and amenities that the new Focus boasts as well as its new EcoBoost engine that will have sedan shoppers very excited.
The new 2015 Ford Focus in Colma offers tons of new interior amenities, tech features and power to sedan shoppers in California. Looking first at the new exterior, the 2015 Focus boasts a revised front and rear fascias as well as new head and taillamps. The new interior has been updated to be more stylish and functional with a new layout that has a redesigned center console with more pockets for storage including a cell phone cubby and new audio and climate controls. New tech gadgets include a standard backup camera, lane-keeping assistance, blind-spot monitoring and a new eight-inch touchscreen.
Now looking under the hood, the 2015 Focus has added a new engine option: the EcoBoost. A fantastic 1.0-liter three cylinder, the EcoBoost gives the Focus a very lively and energic driving experience, while also giving it that added boost of fuel efficiency. You also have the choice to keep the base 2.0-liter four, but our 2015 Ford Focus review thinks you should opt for the EcoBoost, as it offers the same amount of power, but with added savings at the fuel pump.
The 2015 Focus also boasts better handling and a more comfortable ride thanks to its updated suspension and new electric power steering.
Another great feature of the new 2015 Ford Focus in Colma is its "Electric" edition. This electric Focus keeps the amazing stability and powerful handling of its older gas engine brother, but it adds an electric motor that has a driving range of over 76 miles.
So test drive the new 2015 Focus today and see why this terrific sedan is the right choice for you and your family!