San Francisco Ford Dealer Reviews the 2015 Transit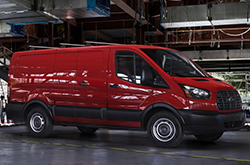 The 2015 Ford Transit is becoming a class leader for a whole new generation of vans. Offering better maneuverability, more power and improved gas mileage, the 2015 Transit in Colma is the exciting new future of passenger and cargo vans.
Coming in three versions (the Transit, the Transit Connect and Transit Connect Wagon), this new van continues Ford's tradition of offering its customers a variety of options for their family or small business. And our 2015 Ford Transit review is here to break down the various versions of the Transit so you can make the best decision for when you are ready to buy.
The standard size Transit van is the ideal choice for those who need a lot of space for either cargo or people. Offering over 487 cubic feet of cargo space and room for up to 15 passengers, the Transit can be used for a variety of small business needs or for larger families that need that extra bit of room that an SUV just can't offer.
But it's the adaptability of the Transit that our 2015 Ford Transit review really loves. Van shoppers can customize the Transit for whatever they may need, be it a shorter roof, a longer body frame or greater payload capacity. And with a 3.7-liter V6 engine, the Transit has the power and performance to handle just about any job, big or small.
If you're in the market for a slightly smaller cargo van, then the 2015 Transit Connect is the best choice, while passenger van shoppers should also find the right fit in the Transit Connect Wagon. Both vans are powered by either a 2.5-liter four cylinder or a 1.6-liter turbocharged four cylinder engine, though our recommendation would be to go with the 1.6-liter turbocharged as it provides terrific power and better fuel economy.
So stop by our showroom and test drive the 2015 Ford Transit in Colma today!�