Serramonte Ford Shows Off the New Ford Transit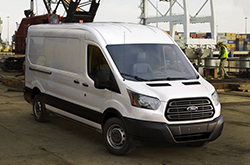 After its introduction, Transit quickly became the most purchased commercial van in the U.S., and today it remains a favorite among critics and fleet owners. If you're in the market for a work van, Edmunds.com's 2016 Ford Transit review says it should be at the top of your shopping list. Editors declare that its excellent configurability, surprisingly refined performance and hard-working lineup of engines make it a top choice among its peers, and you'll soon agree.
Visit us to check out the 2016 Ford Transit in the San Francisco Bay Area and you'll be impressed by what's offered. There's a full-size cargo van and passenger wagon, as well as a compact Transit Connect van and wagon. Several wheelbases, roof heights and engines are available, along with a host of high-quality upfits from companies like Adrian Steel and Masterack.
In total, the Transit lineup offers five powerful and efficient engines, including units that can be ordered with Ford's compressed natural gas (CNG)/propane prep package. Two V6 engines and a turbo-diesel five-cylinder are available on full-size vans, while the Transit Connect offers a Duratec four-cylinder and turbocharged EcoBoost four-cylinder. Every engine is mated with a six-speed automatic gearbox.
Additionally, if you're purchasing a 2016 Ford Transit in the San Francisco Bay Area, there are new tech additions that we think you'll be excited about. Just as important as efficiency for some buyers, Transit's all-new SYNC 3 system offers simplicity of use, fast operating speeds, improved voice recognition, and access to a wealth of information and entertainment features. Also on the list of new options is a single absorbed glass mat battery and auxiliary fuse panels, among other add-ons. A standard rearview camera has been included as well, making it simpler and safer to back the van up.
After reading our 2016 Ford Transit review, come to Serramonte Ford in Colma, California, to see the lineup's latest updates in person. Transit continues to deliver the efficiency, features and reliability that past owners have loved, while implementing meaningful changes that make it a more appealing option than ever before.