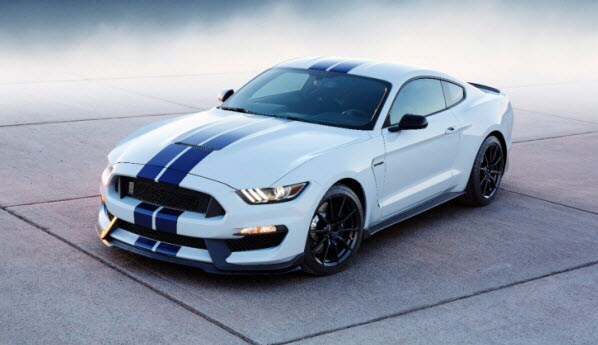 When the incoming 2016 Ford Shelby GT350 Mustang arrives on the market this year, it will produce an exemplary 526 horsepower and 429 lb.-ft. of torque. Ford recently announced the numbers, which confirmed the statement they made at last year's L.A. Auto Show about the pony outputting over 500 horsepower.
The 2016 Ford Shelby GT350 Mustang is guaranteed to be an automatic hit when it debuts on the market. It offers 21 more horsepower than its competition, the Chevy Camaro Z/28, and comes equipped with a 5.2L flat-plane-crank V-8 engine, which currently stands as the most powerful naturally aspirated engine Ford has made. The component is extremely lightweight, offers 102 horsepower per liter and redlines at 8,250 rpm. The Shelby Mustang GT350R trim delivers even more performance; however, if you want to purchase a GT350R, you'll need to order one quick; only 137 will be built this year.
As of now, the 2016 Shelby GT350 Mustang is not yet available for purchase, but when it arrives, it will have a starting price of $47,870. While you wait for its release, come down to Serramonte Ford, take one of our 2015 Mustang models for a spin and learn about each of their notable features.