The Ford Fusion Hybrid makes a strong case for efficiency. Its excellent gas mileage allows a car owner to fight high gas prices. This is definitely a car that can take its owner far into the future.
How Does the Fusion Hybrid Powertrain Work?
A Fusion Hybrid powertrain combines an efficient four-cylinder engine with a hybrid battery pack and an electric motor. This system is assisted by a special continuously variable transmission. The combination allows the Fusion Hybrid driver to command 188 horsepower. Unlike some hybrids which live life in the slow lane, the Fusion Hybrid is definitely competitive.
What is the Estimated Fuel Economy of the Fusion Hybrid?
The car's gas mileage is 41 mpg* on the highway and 43 mpg* on the highway. These figures are impressive, but what do they mean? To get an accurate picture of how the Fusion Hybrid reduces its owner's fuel costs, we took a look at the fuel calculator. This online tool is administered by the U.S. Department of Energy.
The average old car earns about 21 mpg combined. In fact, you can see how the Fusion Hybrid basically cuts bills in half. According to the department of energy's fuel calculator, the old car requires 4.8 gallons per 100 miles while the Fusion Hybrid needs only 2.4 gallons. A shopper may want to check a similar sedan without hybrid technology to see how it will save at the pump. This newer car earns 21 mpg city and 31 mpg highway for a combined 25 mpg. Once again, the differences add up quickly. The Fusion Hybrid has an estimated 588-mile range, beating the other new car's 412-mile range. This makes the case for the Ford Fusion Hybrid over a similar gas-only car.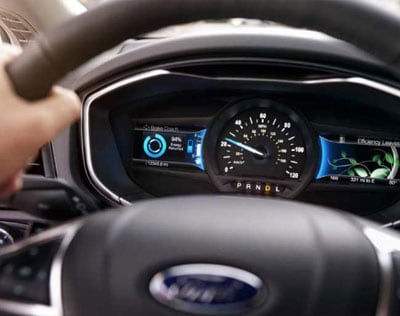 Fusion Hybrid drivers also have an EcoGuide. This intelligent feature helps train the driver in ways to reduce fuel waste. This may reduce fuel costs even more.
Are there Different Variations Available?
Fortunately for shoppers, there's no sacrifice when you choose the Ford Fusion Hybrid. Available in three trims, it comes with all of today's must-have amenities. You can get a full Sync 3 system with navigation, a multi-zone programmable thermostat, and ventilated seats. Leather upholstery can dress up the cabin.
The latest driver aids may reduce your stress. It's easier to avoid trouble with a blind spot monitor, forward collision warning, autobrake, and lane keeper. Active Park Assist slips the sedan in and out of a parking space with a minimum of fuss.
You can check out the Ford Fusion Hybrid at our dealership. We've got a big selection and helpful onsite financing.
* Based on 2018 EPA mileage ratings. Use for comparison purposes only. Your mileage will vary depending on how you drive and maintain your vehicle.