Ford Dealer in San Francisco Reviews the New Mustang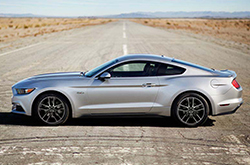 The Ford Mustang is 50-years-old this year and Ford is celebrating this milestone with a gorgeous redesign that gives the 2015 Mustang a new engine, a roomier interior, upgraded tech amenities and new body styling. Stay tuned to our 2015 Ford Mustang review as we take you through all the new features of this great American classic.
Shoppers looking for a 2015 Ford Mustang will have three engine options to choose from including a 3.7-liter V6, a 5.0-liter V8 and the brand-new EcoBoost four cylinder. An EcoBoost engine on a Mustang may seem a bit odd, but we found that the new engine actually packs just as much power as the others, while also saving you at the gas pump with its increased fuel economy.
Our 2015 Ford Mustang review also found the sport car's new independent rear suspension to be very impressive, giving the Mustang much better handling as well as a quieter and more comfortable ride.
Looking at the Mustang's interior, our favorite new features include the new heated and ventilated front seats, the leather-wrapped steering wheel, keyless ignition, the six-speaker sound system and the Sync voice control system. And with the auto's exterior sporting a larger grille, redesigned headlights, new side windows and a wider wheelbase, shoppers looking for a 2015 Ford Mustang in Colma will find that the car has a much more "aggressive" look that emphasizes the Mustang's power and confidence.
If you are in the market for the ultimate Mustang then we recommend taking a look at the Shelby GT500. Rated at up to 662 horsepower, the Shelby GT500 is one of the most powerful cars on the road today, and with amazing features and amenities, those looking for a 2015 Ford Mustang in San Francisco should definitely take the Shelby GT500 for a test drive.
The 2015 Mustang and 2015 Mustang Shelby GT500 are both available for a test drive so stop by our showroom and check out this amazing classic today!