When you adjust the settings for the climate control system in your Ford, you expect the system to generate a desired stream of air at a comfortable temperature. This is likely your experience most of the time as you cruise around the local area, but the AC system in any vehicle can eventually develop repair issues related to dirt or wear and tear. These issues can potentially affect the smell of the air, the temperature and the amount of airflow that you enjoy. Driving around in a vehicle without functionality of an air conditioner can be a frustrating, uncomfortable experience, but you do not need to suffer. Our hardworking and well-trained auto technicians are available to repair your Ford AC system without delay.
Why Did My Ford Air Conditioner Stop Blowing Chilled Air?
An air conditioner blowing warm air is one of the more common problems that a driver may have with an AC system. Damage to the vacuum seals, compressor, blower, condenser and other parts may create a steady stream of warm or even hot air when the AC is running. On the other hand, damage to the compressor clutch, fuses or valves may generate a small amount of chilled air followed by warm air. Regardless of your issue with temperature control in your Ford, you can trust our certified auto pros to diagnose the issue accurately and to repair the problem quickly.
Why Is Air Barely Flowing Through the Vents?

Another common issue that some drivers have relates to low airflow. A weak stream of air when the settings are at the highest level could be the result of dirt and grime on the evaporator case or of damage to the seals and hoses. Even when the air is chilled, low airflow can make you feel uncomfortable in the Ford on warm weather days. After we determine what is causing your AC to malfunction, we will make any repairs or clean any components as needed to remedy the problem.
How Can I Tell If My Car's AC Is Leaking?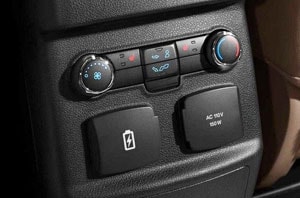 A leaking air conditioner is a serious issue that drivers should address as soon as possible. A small leak allows outer air to mix with refrigerant in your car's AC system, and this can produce a corrosive material that causes severe damage. Some drivers believe that an AC is leaking when they spot moisture underneath the car after it has been parked for a few minutes. However, this is not the case. Signs of an AC leak in a vehicle include difficulty controlling the airflow of your climate control system, challenges with temperature control and more. Because you may be able to limit damage to your AC system if the leak is repaired quickly, you should schedule an appointment with our service center if you suspect a leak or have any other related concerns.
Can You Make an Air Conditioner Smell Fresher?
Automotive AC systems can become filthy with regular use, and this grime can make the inside of your car smell like a dirty gym bag or a rotten egg. A dirty air filter is one cause, and this issue is easily remedied by replacing the filter. Mold on the evaporator case is another cause, and it is usually related to a blocked line that causes extra moisture on the case. Removing the clog will deal with the moisture issue, and the mold can be wiped away. Our professional auto technicians can address these and other repair and maintenance service needs quickly and to your satisfaction when you bring your Ford to us for assistance.
Service Hours
Monday

7am-6pm

Tuesday

7am-6pm

Wednesday

7am-6pm

Thursday

7am-6pm

Friday

7am-6pm

Saturday

7:30am-5:30pm

Sunday

Closed