It is vital to service the transmission in your vehicle to ensure maximum efficiency and performance. Ford transmissions are built solid and designed to last. But, problems can occur that affect every aspect of the transmission, causing breakdown and debilitating the lifetime of the component. If your transmission shows signs of wear and tear, schedule service with one of our factory-trained repair techs right away. Prompt attention to transmission trouble reduces damage and repair expenses. Find answers to some of the most commonly asked transmission questions below.
When Should I Change My Transmission Fluid?
The transmission fluid in your vehicle keeps the vehicle operating smoothly. Over time, the transmission fluid breaks down and no longer protects the transmission. In fact, a lack of fluid may damage the transmission. Change the transmission fluid according to the vehicle manufacturer's recommendations and protect your transmission. Most experts recommend a transmission fluid change once every three years or 36,000 miles.
How Do I Know if My Transmission Fluid is Bad?

Transmission fluid is clear or light red in color. When it begins to age, it turns a dark brown or black color. This color change is the biggest indication that it is time for Ford transmission maintenance. Dirt and debris mixed in the transmission fluid or a burning odor when the vehicle is cranked are additional signs that service is necessary.
Why Do I Need to Replace My Transmission Fluid?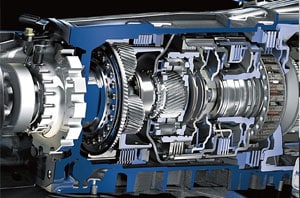 Transmission fluid deteriorates over time. When it deteriorates, it causes sludge buildup that allows dirt and debris to mix with the fluid. Furthermore, when there is no transmission fluid in the transmission, it is not lubricated and the gears in the vehicle may not shift. Regular transmission fluid changes prevent these worries.
Can I Drive My Vehicle With a Transmission Leak?
It is best to schedule service with repair experts as soon as you notice a transmission fluid leak. Driving the car with a leak is dangerous to the transmission and the vehicle as well as to your safety. The transmission helps the vehicle change gears but does so with the help of the fluids inside. When there is a leak, shifting doesn't come easily, but that's just the start of problems that can result.
How Much Does Transmission Repair Cost?
Transmission repair costs are different for each job because numerous factors impact those rates. The biggest factor in the repair cost is the problem that you're experiencing. We offer many service specials and coupons to help alleviate the costs, and we are happy to help diagnose any transmission issues.
Service Hours
Monday

7am-6pm

Tuesday

7am-6pm

Wednesday

7am-6pm

Thursday

7am-6pm

Friday

7am-6pm

Saturday

7:30am-3:30pm

Sunday

Closed